Roadmap
Incoming
Improved Azure integration
Easier deployment, browse existing databases et al.
Fine-tune the database scaffolding
Allow configuring every aspect of database scaffolding. Customize column display - title, visible or disabled state (in form fields and DataGrid columns), default value, validation (required, range, email etc).
New Blazor components
Scheduler, Chart, Gauge, GoogleMap, Slider.
Radzen Studio improvements
RTL support, Context menu, Oracle data source for Blazor.
Page templates and wizards
Search with DataGrid.
Completed
January 2020
Step component for Blazor.
Blazor DataGrid cells and rows conditional styles.
Blazor popup validators.
December 2019
Blazor DataGrid column FilterTemplate.
OData data source for Blazor.
Blazor Active Directory security.
November 2019
Tree component added for Blazor.
Custom, reusable components for Blazor.
Custom attributes support for all Angular and Blazor components.
Save/load deploy settings.
Theme customization from Radzen Studio.
Upload component for Blazor.
October 2019
Excel and CSV export for Blazor.
DataGrid inline editing.
MySQL data source for Blazor.
September 2019
Blazor REST datasource added.
Blazor AutoComplete, CheckBoxList, RadioButtonList, SelectBar, SplitButton, Accordion, Rating and ProgressBar components added.
Blazor Internationalization (i18n) support added.
DataGrid with Form page template added.
August 2019
Blazor DropDownDataGrid, DatePicker and Menu components added.
Invoke custom method support added for Blazor.
Blazor DataGrid column filter as you type added.
DateFormat option added for auto-generated CRUD pages in Blazor applications.
July 2019
Blazor Master/Detail page templates.
Notifications for Blazor.
Blazor SQL Server Reporting Services viewer with proxy support.
Query builder for Blazor with multiple sorting and nested filters.
June 2019
Security for Blazor applications.
Multiple selection for Blazor DropDown component.
MSSQL data-source stored procedures support added for Blazor applications.
Native Blazor designer added for Radzen Studio.
Data annotation validation support added for Blazor applications.
Ignore list support added for Blazor applications.
May 2019
Signature component.
Specify what tables to scaffold and what to skip.
Pick what pages to generate per table - list, edit, add etc.
Deploy Blazor applications to IIS, FTP & ZIP.
Upgrade to latest Angular and PrimeNG.
April 2019
Oracle data-source.
New application themes.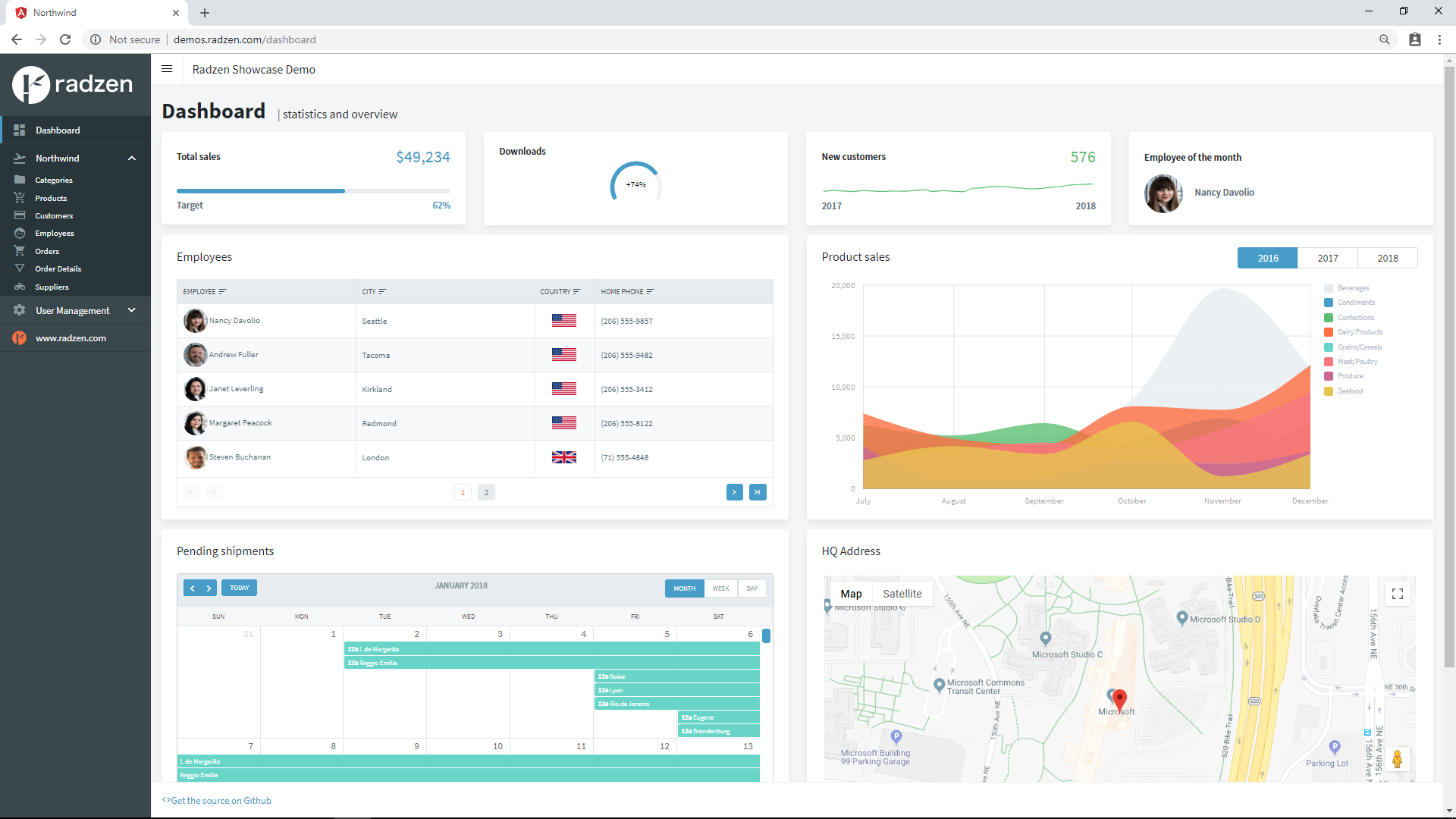 March 2019
Property binding editor added.
February 2019
Query builder filter logical operator and hierarchy support added.
January 2019
SSRSViewer component support added to Blazor projects.
Query builder added for invoke data source method action for MSSQL, MySQL and PostgreSQL data sources. Available for GET requests only with collection returned as response.
(Blazor) DataList, ListBox, Password, LengthValidator, CompareValidator and NumericRangeValidator new components added.
Implement invoke custom method.
December 2018
Ignore list added.
Blazor (server-side) experimental support added.
November 2018
Form design time support via new TemplateForm component.
Validator components (RequiredValidator, CompareValidator, LengthValidator, NumericRangeValidator).
New input components (Rating, FileInput, Password, DropDownDataGrid).
October 2018
Radzen Community Edition added.
September 2018
Optimistic concurrency support added for MSSQL, MySQL and PostgreSQL data-sources.
Sparklines, Gauge and ProgressBar new components added.
Cut/Copy/Paste/Duplicate components added in design-time.
August 2018
GoogleMap component.
MSSQL Stored Procedures with Output parameters support added.
Export to Excel and CSV.
Support for Azure AD 1 authentication needed by Microsoft Dynamics.
July 2018
New Default and Dark application themes.
Windows authentication and LocalDB suppport for Microsoft SQL Server data-sources.
Improved DataGrid filtering UX.
June 2018
Master detail templates added.
Layouts and layout components (Body, Header, Footer, ContentContainer, Menus, etc.).
Multi-column Form component.
Application assets and Image component.
Icon, Link, Heading and Gravatar components.
May 2018
Visual Basic support added for .NET Core 2.x applications.
April 2018
Password reset implemented.
Angular apps are now PWA ready.
March 2018
Add support to run Radzen applications seamlessly from Visual Studio.
Composite primary key support for .NET Core 2.x projects.
Default SQL values support added.
Optional email confirmation during user registration.
.NET Core 2.x support added.
UI to download and install .NET Core from Radzen.
February 2018
Implement Steps (wizard) component.
Support for Google OAuth.
January 2018
PostgreSQL support added.
DataGrid grouping support added.
New data dialog and new CRUD page improved with settings for paging, sorting, filtering, etc.