Accelerated, smarter, and cost-effective Blazor development
Discover the advantages of Radzen Blazor Studio, transforming your approach to Blazor application development.
Radzen Blazor Studio

→
Explore Solutions

→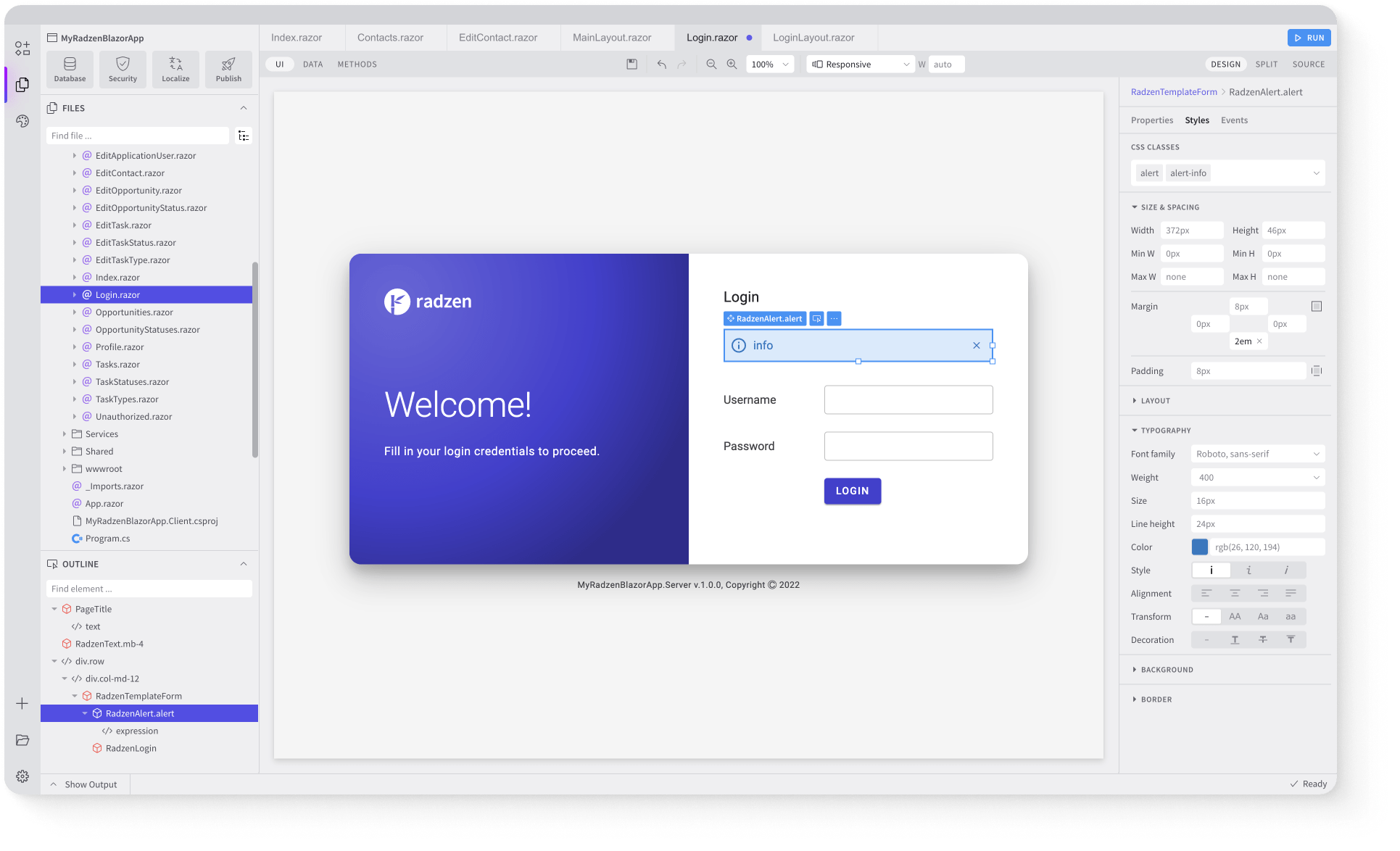 Trusted by

Thousands of developers and IT leaders
Your All-in-One Solution for Blazor Application Development
Ready to supercharge your Blazor development journey? Look no further!
How is Radzen Better?
Radzen Blazor Studio is one of a kind code less IDE. Simple to setup, maintain and update.
Connect to anything with an API
Radzen Blazor Studio grants you the ability to harness the power of RESTful APIs, making data integration a breeze.
Learn more

→
Data scaffolding
Quickly connect to your database - MSSQL, MySQL, Oracle or PostgreSQL.
Learn more

→
WYSIWYG, code less approach
Drag and drop editor provides control over application screens
Rich toolbox and Components' inspector
Learn more

→
1-Click Deploy
Quick and easy deploy it to IIS, Azure, and FTP.
Learn more

→
Deployed at your premises
No need to publicly expose your secure datasources.
No hidden runtime costs
Since Radzen apps are deployed at your premises, there are no any hidden runtime costs.
We have been using Radzen since April 2017 and have been impressed with the productivity of the tool and the excellent support.

Technical Director @ TriPartum
Radzen is your ultimate partner in Blazor application development.
Select the product that best suits your development style.
New
RAD
Radzen Blazor Studio is a software development environment that empowers developers to design, build and deploy Blazor applications without the traditional hurdles.
Learn more

→
Free
UI Components
A set of 70+ free native Blazor UI components packed with DataGrid, Scheduler, Charts and robust theming including Material design and FluentUI.
Learn more

→
Low-code
Radzen is a low-code solution that creates Blazor and Angular web applications connected to local databases or RESTful services.
Learn more

→